Testimonials
There is no
higher level of satisfaction
, than that which
Kirsty
gets from reading hand written Thank You cards she receives from her grateful clients on a regular basis.
Dear Valued Clients,

I am very proud of the service provided to my valuable customers over the years. And I appreciate the referrals. Thank you for your patronage, and the trust you placed in me. I hope your home is everything, you wanted it to be. And may the need arise in the future, for a service I can do, please don't hesitate to call me. It was an absolute pleasure serving you!

Best Regards,

Kirsty Lloyd


A few cards from the hundreds on file. I hope you enjoy reading them as much as Kirsty does.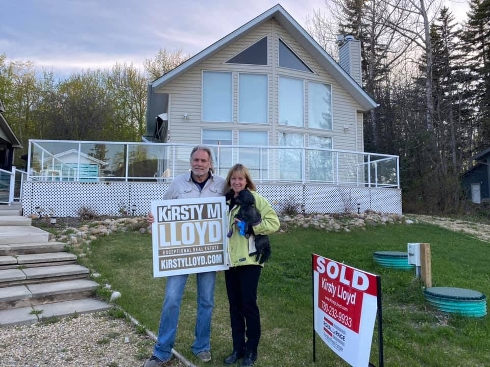 Longworth Family purchased at Crystal Springs, Pigeon Lake, AB
Longworth Family Testimonial
While we're all dealing with the reality, threats, and heartaches of COVID-19, many things we must do have become far more challenging. But the calm and cool approach while working with high levels of expertise definitely achieves positive results.
To have the opportunity to work with an Agent like Kirsty Lloyd was a Godsend for us. To be able to thoroughly enjoy every conversation is a rarity in business especially when you are dealing with your own large, personal, financial investments at this point in our lives.
Kirsty's relaxed but efficient style of communication paved the path for a valuable education on Lake Properties in general as well as the specifics on the property we were considering on Pigeon Lake.
Roughly 30 minutes into our first discussion both my wife and I were extremely impressed with Kirsty and hoping to learn much more about the current market conditions of recreational properties and more specifically; the villages surrounding Pigeon Lake.
My Wife and I are at retirement age and we have both experienced several residential real estate transactions.From them we have learned how having confidence in your Real Estate Agent, buying or selling, can increase or reduce levels of stress and anxiety. The Agent's advice can also lead to success or failure on any deal.
Neither my wife, nor I have ever experienced the luxury of being represented by a Real Estate Agent with Kirsty Lloyd's level of knowledge, skill, integrity, and tact. Throughout every stage of the purchase and sale of our properties we had complete confidence that we were kept well informed and our decisions were the right decisions for us.Kirsty Lloyd provided us with her professional service in such a manner that we could enjoy every challenge that was presented.
We find Kirsty to be very professional and always respectful yet consistently able to keep things casual with her wonderful sense of humor. She maintains a casual, enjoyable comfort level in conversation, regardless of the intensity of various topics of discussion. We find her to be extremely honest and broad minded without ever compromising her high level of integrity and business ethics. There was never a question that Kirsty could not answer and when research was needed it was performed quickly and the answers were communicated to us with skill and clarity.
For my Wife and I lake life is new and exciting. With Kirsty's experience and passion for it, she understands the benefits and also knows what sorts of things are most important to attend to with regard to these properties. We definitely needed some education and we could not have asked for a better person to be our coach. Kirsty has all the resources to draw from and was continually able to direct us to the person or the company best able to look after any of our concerns.
To continually exercise this amount of energy and to spend the amount of time that it takes to provide this level of service, Kirsty has to have a huge passion and serious drive. There is no question Kirsty has both.
Our purchase has been completed and our sale is pending, both within the past 45 days of our first conversation with Kirsty. Without question, we highly recommend working with Kirsty.
Thank you Kirsty Lloyd.
Sincerely,
Ron and Barb Longworth
Purchase 177 Crystal Springs
Sale of 4903 48 St, Sunset Point, Lac St. Anne
May 2020
Doug Allen
"Interviewed a few realtors and decided to list with Kirsty. She was easy to work with and really did her homework when it came to a listing price. My home SOLD in a week and for more money than I thought possible. One month from list to close. GREAT job Kirsty, thanks." Sold in 7 days for 99% of list price.
Angela Wielobob
"Kirsty, I enjoyed being your client and appreciate the energy and effort you put into being my realtor. It was a pleasure being represented by you."
The Poulin Family
"We were extremely pleased with Kirsty Lloyd and her team. She delivered everything she promised to us. We were informed every step of the way which gave us great piece of mind with the entire process, it was smooth and stress free. Plus her staff were also very helpful and always cheerful. We sold in just 15 days and for 96% of list price"
Kotier Master Homes Inc.
Real estate is a big investment for most of us whether it's to be an investment property or the purchase or sale of your own home. We have had numerous experiences with real estate agents in the past but, Kirsty Lloyd always makes us feel that we have left our properties in good hands. Her valued suggestions with respect to the market evaluations of our properties assisted us in listing at the right price and they sell within a short period of time. She is professional, personal, and follows through with all aspects of the transaction. Hassle free result; that is what a good agent like Kirsty has done for us and we would recommend her without a doubt to anyone. We look forward to continuing a long relationship. ~ Kathy & Herbie Kot
Denis Deblois
"With Kirsty and her team no phone call ever went unanswered. Information and follow thru were always Kirsty's main focus she always made her staff available to meet my needs.

First rate service and made the process effortless and personable if I had more resources I'd buy another home.
Lori and Ovid Barlett
"From the moment we had our initial meeting with Kirsty we knew she was the realtor for us. She acknowledged our emotional attachment to our home a knew just how to market it to the public. We knew going in we were asking more then the market was dictating, we received $16,000 more then another realtor advised us to list at!

Kirsty's assistant Jeannie was a pleasure to deal with always there for our questions and supplied us with viewing updates.

2 weeks and we were SOLD!!! Great job!"
D'arcy Lemay
"Kirsty came referred to me and I have no issues giving her name to any of my friends in the future. Considering I had to do most of my prep work via email and phone all I could do was trust in her experience. That trust was rewarded in that the first place we went to was the place I ended up buying! She was still thorough as we checked many others options in a short period of time to ensure I grasped what was out there on the market. And to top it all off, she bargained to get an amazing price on my new place. I could not possibly be happier with my house buying experience."
Michelle Davidson and Angela Freer
"I have worked with other real estate agents prior to working with Kirsty Lloyd and by far she is the best. I would work with Kirsty again and again. Kirsty sold my first condo and helped my life partner and I purchase our new home. Kirsty was patient and did her due diligence with each property we viewed. Together we viewed approximately 20 properties! Kirsty worked with us until we found our perfect home. That is what I call CLIENT SERVICE!!! Kirsty Lloyd is a Realtor who cares about her clients!

Thanks a million times over Kirsty."
Heather Gardinor and Yves Pazadir
"Thanks Kirsty- you were very helpful and patient while we tried to make up our minds as far as what we wanted and where! We appreciated your local knowledge and that you pointed out very busy streets and other factors that might not fit our family and lifestyle. You were very easy to work with and put us at ease immediately.
Thanks for everything- we are loving the new house!
The Jesso Family
"With the market slowing down, it's imperative to have a knowledgeable Realtor® marketing your home. We interviewed several realtors® and are happy we made the decision to go with Kirsty Lloyd. When the average homes in our area were taking anywhere from 52 – 80 days to sell and were as high as 288 days on the market! She sold our home in just under 10 days! Working with Kirsty was easy, hassle free and a huge success for our family to move on to our next home!"
Michael Shelfoon
Words are not enough – you are a true Professional. I have known Kirsty for 6 years now in a 28 yr. window of investing in Alberta real estate. She has tackled the toughest deals with ease and her communication skills and knowledge of real estate are priceless. On both my personal and investment transactions she has staged my properties with awesome results. Kirsty transformed my personal purchases into a wonderful place to call home and they were truly a pleasure to enjoy.

In the last 3 yrs alone, we have transacted over $3 million in purchase/sales! I look forward to the future and so grateful our paths crossed. Thanks Kirsty, your energy amazes me.
Shirley Louie, CMA CFO, Director Chagall Inc – Professional Delvelopment and Interior Management & Artistic Design
Dear Kirsty,
On behalf of the group of Chagall Inc. and personally myself, we would like to extend our deepest appreciation and gratitude for being a significant part of our marketing team and your efforts in leading Chagall's first major "signature" development project in the Sales and Promotional Division. Your performance, professionalism and integrity of work ethics have reached beyond excellence in the real estate development and housing industry; as such, you have demonstrated yourself with ambition, perseverance, and assertiveness and yet very personable when faced with the most intense challenges with such great tenacity. Although, you provide your professional service as a Real Estate Marketing Consultant, we are all so glad that you have joined our group and have become a part of our family for every project we did and will do, including the participation of Chagall's most recent "Beijing, China Private Group Tour" in September, 2007. Kirsty, we must say that you are not afraid of learning anything new, as you have apparently absorbed a general knowledge of different cultures and languages in a very short period of time – Good for you !!!!. You are smart, humorous, extremely entertaining, open-minded, and love lots of different challenges, whether it is good or bad, and also a very positive thinker, indeed!!!!!!

Thank you, Kirsty!!! We all love you!!!! Strongly Recommended!!!!!!
Art Valerio - Broker /Owner RLP Arteam
Over the past 6 years, as an agent with Royal LePage ArTeam Realty, Kirsty has continuously displayed a passion for dedicating herself to a superlative standard of professionalism, integrity and productivity. These standards are shadowed only, by her greatest strengths, hard work and attention to detail, when representing each and every one of her clients. Kirsty's ongoing commitment to ensuring 100% client satisfaction solidifies her continued success as a Top Producing Realtor. Kirsty is an integral part of Arteam.
Heather Mussell
Kirsty Lloyd made my first purchasing experience easy and enjoyable. She was patient and spent approximately 6 months with me as I sorted out what kind of property I was looking for, price range, area, etc. She took the time to explain to me where the market was going and even though she suggested to buy soon, there was never any pressure, only guidance provided. Ultimately I found a great condo at a great price and I am very happy! I even purchased for under the list price! Kirsty secured the purchase of my condo for me.

Thanks again Kirsty, I hope you're enjoying your summer. I planted the seeds you sent me!! Take Care. Kind Regards,
Carrie Slatter & Jeremy Ward
Kirsty was highly recommended to us by a past client, Eric Slatter. Kirsty is an energetic committed and skilled realtor. Not only did she help us find the right properties to look at, she sometimes (fairly often actually) did it at very late (or early) hours. Her availability to view properties and answer questions was much appreciated. The education and helpful hints and suggestions provided along the way were helpful and made the process as easy as it could be.

We couldn't have done it without you Kirsty! We will be sure to recommend Kirsty to everyone we see who is interested in making a real estate purchase.
Janine & Cory Creese
Kirsty Lloyd was a very energetic and enthusiastic agent who made our home searching a real pleasure. She provided us with valuable tips, advice and information that aided us in making a sound decision on our purchase of our beautiful condo. She was always readily available to assist us and answer all our questions when needed. Kirsty also impressed us when she arranged a special gift for us which Janine really adored, this will go along way, and we look forward to a long relationship with Kirsty.

We will recommend Kirsty to our friends and family and look forward to a relationship with our new friend.

We Appreciated All Your Efforts
Jennifer McMillan
I recently moved to Edmonton for work and Royal Lepage Relocations organized my move. They set me up with a realtor and paid for a house hunting trip, Kirsty was the realtor that they put me in contact with. Several months before my move Kirsty contacted me and we discussed what type of housing I was looking for and she sent me listings to look at so that when I came to Edmonton I had an idea of what was available. When I arrived in Edmonton she spent an entire day taking me and my parents around the city to look at places. I found a place that I liked during that one day due to Kirsty's efficiency and the knowledge of the real estate market in Edmonton. I put an offer in the next day and Kirsty negotiated a deal. I actually ended up paying less than the listed price, which was unusual for Edmonton at that time.

This was my first time entering the market and Kirsty was very good at explaining how things worked and helped guide me through the process. She was very helpful throughout the entire process and was very easy to talk to, Kirsty even came to our hotel during a major snow storm so that I could sign the purchase offer.

Kirsty is a professional who is very good at her job and I would highly recommend her as a realtor.
Ron Ward
With Kirsty Lloyd's help, I recently purchased a lovely condo in downtown Edmonton. During the process Kirsty was honest, helpful, & very flexible. She was willing to accommodate all my requests and provided professional advice in response to my concerns. Kirsty Lloyd acts with integrity when dealing with her clients and I would gladly recommend her to friends and family.
Thank you for all your efforts
Joel & Richelle Keddy
When we first moved to Edmonton from Vancouver Island, we had the honour of getting referred to Kirsty. The moment that we met her, we knew she would work out for us. She was without a doubt what we were looking for in a realtor. Kirsty is knowledgeable, honest, trustworthy, and very hardworking.

Never having bought a house before, and on a very tight house-hunting schedule, due to military restrictions, we started looking for a house, but as the days passed on, so did our choice of a "nice" house. As the houses got progressively worse, we were getting more and more discouraged, but Kirsty reassured us that it would get better, and it did. We looked at our house, put an offer in, got the home inspection, and had the sold sign up, all on the last day. Kirsty was so patient, and she had done it. She found us our first home. It was the most stressful, trying and because of Kirsty, one of the most exciting experiences of our lives.

Once again we are on the move, and of course we called Kirsty, because of the wonderful job she did when we bought our house.

We would highly recommend Kirsty to anyone who is buying, or selling his or her home. She is personable, outgoing, and very reliable, and always has the clients' best interest at heart.
Thank you Kirsty for doing such an amazing and outstanding job.
Mohamad & Asmaa
Kirsty Lloyd was very helpful. Our experience with her was very informative. We appreciated all the work that she did to meet our needs. Thank you Kirsty, very much for your nice manner. We hope to have another opportunity to work with you soon. Wish you all the best.
M.M. & M.S.
It was so much fun. It really makes the whole purchase extra special.
Thank you Kirsty
Steve & Marcie VanWeenen – Ft.McMurray
Hello Kirsty,
The first and foremost important thing to mention is Steve and I would like to thank you ever so much for all you have done helping us find a new home. Even after a very busy day on Friday and being unsuccessful, we had a few laughs and on Saturday morning you were ready with a smile on your face to give all you had again at our request. We really appreciate all your efforts. We felt very confident being in your hands.
Steven
Kirsty was an energetic and helpful resource throughout the buying and selling processes. She always answered our calls and made herself available to us on short notice. We were novices in the real estate market, and she was able to assist us with all of our
questions.
Don and Shelly Laporte
Kirsty Lloyd was a real pleasure to work with and get to know. She has assisted us with buying and selling two of our homes. She was very professional and yet I felt like I was dealing with a friend. I would not hesitate to recommend Kirsty as an agent whether you are buying or selling your home. I feel that she has the knowledge, experience, and energy to make your move successful.
Eric Slatter
Initially I started looking for condos thru COMFREE. My experience with COMFREE was not satisfactory. Using ComFree to buy a property was time-consuming, frustrating, completely unprofessional, and ultimately ineffective. I would recommend that anyone looking to buy property use a professional licensed realtor®... namely, Kirsty Lloyd!

Dealing with you, Kirsty was a professional and enjoyable experience.
You made my first home-buying experience as easy and pain free as possible.

I really appreciated your reliability and punctuality. Although you were busy with other clients in this hectic market, I knew I could always count on you to return my calls, and to act in my best interest.

I would definitely recommend your services to anyone I know who is looking to buy or sell a home.
Wayne and Rena
Kirsty did a great job of listing our home & promoting it for sale, yet again. We appreciate that this difficult sale was taxing for Kirsty as well as for us, and are grateful for Kirsty's involvement.
Wayne and Rena
Recently, Kirsty sold our home and helped us to purchase a lovely condominium. Kirsty's professionalism and care were evident as she profiled our home for sale. Within hours of the real estate open house, we had multiple offers resulting in a sale $8000.00 above our asking price!

When we began the search for a new condo, Kirsty took the time to learn what our needs were, and then gave us her undivided attention until we found what we were looking for. She capably handled all of the details of the purchase and assured herself of our satisfaction right up until we were settled in our new condominium.
We have great confidence in recommending Kirsty as an outstanding realtor who is prepared to give personal and supportive service to her clients. Her shrewd knowledge of the housing market, her integrity, and her delightful personality made Kirsty a pleasure to do business with.
Ted & Diana Koczka
Kirsty helped us sell our existing home as well as the purchase of our new one. We were completely satisfied with her professionalism, knowledge and her expertise of the Real Estate market. We would strongly recommend Kirsty for all your real estate needs.
Larry Hotton
I would like to personally recommend Kirsty Lloyd for her knowledge and professional background in dealing with people and real estate. The recommendations she makes from the beginning to the end of the sale of a home has impressed me. Kirsty, while working with lawyers and courts especially on the sale of my home could be challenging Kirsty worked hard to get things going.

Thanks for your help Kirsty. Good luck in your future, if I need something in the future, I will call upon you.
Gela
Dear Kirsty,
I really enjoyed working with you in the purchase of my new home. Being newly divorced, and this not being a very good time in my life, you made this process so much easier. You listened to my wants and wishes, you made me take note of things that I had never considered, and helped me make the right choice in home and location and to make the transition a pleasant experience for myself and my son.

I especially appreciated your taking the time to look at the many houses with a moments notice (since I really didn't have much notice), and even your bringing coffee to me first thing in the morning. You made me feel like I was the most important person in your life at that moment, which I really appreciated.

Also, your help and assistance in finding out about the financial aspects of buying a home for myself, were invaluable.

I can't thank you enough and wish you all the success in your career!
Michel Boyer & Karolin Metivier
The task of moving can be a stressful one. But moving 4000 kilometres to a brand new city can be even more so. Work brought us to Edmonton, a city we knew very little about.

We knew renting was too expensive, and decided it was time to buy our frist home. But where would it be?

Kirsty quickly became a new friend in this beautiful town. She used her years of experience to guide us to the right areas, and found us a house that we now proudly call our home.

The journey to getting the end result wasn't so simple.

We searched through hudreds of properties, dozen of criteria. Add to that a limited housing inventory, it made for trying times.

Thanks to Kirsty's knowledge, she was able to narrow down hundreads of listings to something completely manageable.

Rushing against time, she guided us through the buying process, negotiated and treated us as if we were royalty.

We would not hesitate recommending Kirsty Lloyd for your next real estate transaction.

We recall being in awe at how hard she works. To us, Kirsty is Edmonton's best- relialbe, hard working, friendly and respectful.
Earl & Liz Andrusiak
Before listing our condo we formally made our intentions known to 75 Realtors including several who previously listed/sold in our complex. After interviewing the several who came forward to solicit the listing, Kirsty clearly had by far the most to offer. She took the time to get to intimately know our complex to accurately and effectively represent it to the buying public. She is energetic, punctual, responsive, patient and takes direction well. Her recommendations are sensible. We were well pleased with ther service.