Biography
Kirsty Lloyd prides herself on her work ethic and surrounds herself with likeminded service providers. She provides Exceptional Real Estate service to both buyers and sellers in the Edmonton, St. Albert & Pigeon Lake area; where her family has owned lakefront property since the early 1950's.
Kirsty grew up in the beautiful area of Capital Hill in Edmonton close to the river valley, Crestwood, Glenora and Laurier Heights and today specializes in those areas. She grew a passion for real estate in the late 1990's while running her own car dealership, helping clients make what was usually the second major purchase in their lives. During that time she bought and sold many revenue properties for herself.
After selling her car dealership, she knew she wanted to continue to answer the call of her entrepreneurial spirit and real estate was the right fit because it offered a chance to coach and guide her clients with what is usually the most major purchase in their lives, their home.
She knows her gifts are to guide her clients in making million dollar decisions every day.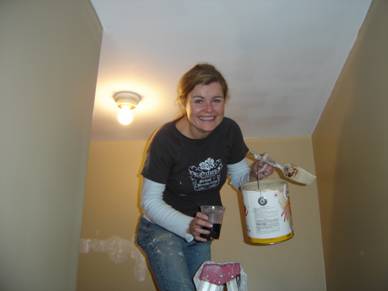 She has owned & flipped numerous properties in her career and loves working with an array of clients from investors to luxury homes to first time home buyers. "What my clients get is over 30yrs of hard work, education, skill and wisdom that I have from my experiences".
She feels fortunate to have built strong relationships with all her clients that has led to 85% of her business being referral based. "I love how it starts with listing one family's home and leads to me selling their kids condos while going to university and then homes as they start their own families and then back to the parents as they downsize after raising their family. I find it a true honor to be supporting my clients full circle in their lives!"
She truly backs up her tagline "Exceptional Real Estate" with a proven selling strategy.
This strategy includes an initial market analysis, a strong marketing strategy, professional staging consultations when needed to help the seller prepare their home for sale, and providing guidance and consistent communication with her clients throughout the selling/buying process.
As well, she utilizes her construction, renovation, investment, financing, interior design, feng shui and coaching experience and analytical skills to provide thorough and objective information to her clients enabling them to make well informed decisions when it comes to investing their money into real estate.
Kirsty is also involved in a private lending business owned by her family and has often assisted certain clients needing these specific financial arrangements as this has been one of her specialties for over 30 years including when she owned her car dealership.
Kirsty is more than just a realtor, she comes with more than 30yrs of skills in being an Entrepreneur/ Business Owner, Financing, Real Estate Investing including the entire Renovation process, and what it takes to Negotiate the most complex transactions.
Kirsty loves the "Art of Negotiating" for her clients so if that is not your comfort zone you are in the right place.
If you want a real estate professional who will take the time to understand what your needs are, and then use their knowledge and experience to deliver what you need when you need it, then you are in the right place.
Lake Life is something that Kirsty has experienced since the day she was born and continues to in her real estate / coaching career. She has been passionate about making that dream for Lake Life come true for many clients.
She owns a lakefront property at Ma-Me-O Beach, Pigeon Lake that has been in her family since the early 1950's.
While she is very knowledgeable and connected at Pigeon Lake and the surrounding area; she uses her expertise in recreational properties to help clients with properties at other lakes as well and potential Buyers looking to purchase.
But she will tell you, The Village of Pigeon Lake is where her heart is and she has an Exceptional team of service providers that support her in the entire buying/selling process there. She is a huge advocate for supporting local whenever she can; keeping the economy thriving in this small, wonderful village she calls home!
She also has a company called True Nature Leadership where she coaches a small intimate group of entrepreneurs and holds retreats for growth seekers and entrepreneurs at her lakefront property helping people connect to their wild wisdom while being in nature.
Kirsty strongly believes in community involvement both locally and globally. She has volunteered and supported Dogs With Wings, YESS, Big Brothers, Big Sisters, and worked with an International company for six years called Amazing International and a non-profit organization called Voices for the Voiceless. Kirsty also strongly supports the local Pigeon Lake area with volunteerism, fundraising and support of the many small businesses out at Pigeon Lake.
WHY YOUR REAL ESTATE EXPERIENCE MATTERS
You are about to complete the biggest transaction of your life. Something that must be done right and with care. Let me help you make sure that is what happens. I really get this and have been coaching clients through million dollar decisions everyday making the whole process an "Exceptional" one.
Let me help you make sure that is what happens for you.
– Kirsty Lloyd, Proud Realtor since 2000, SRS (Accredited Seller Representative Specialist), ABR (Accredited Buyer Representative)
THIRD GENERATION ENTREPRENEUR
Business is in my Blood!
"I value the business fundamentals my grandfather taught me: have integrity, build lasting
relationships and always give back," enthuses top producing Edmonton, St. Albert and Pigeon Lake area.
Realtor®, Kirsty Lloyd.
Ironically, the first house Kirsty sold was her grandfather's home in Crestwood.
"My father also told me it's about really loving what you do and hard work pays off. I'm fortunate to have been given great entrepreneurial wisdom early on. Edmonton is full of entrepreneurial spirit."
Kirsty loves that real estate connects her with people. "I'm passionate about doing the best job for my clients. Real estate allows me to build long lasting relationships with them. And if I've done a great job they refer me to their network, creating a circle of fantastic clients to work with."
Kirsty prides herself on empowering her clients with information to make wise decisions. "I love mentoring. I appreciate people who mentored me. I never stop learning from clients and colleagues and I enjoy sharing this success."
By using Google, Facebook, Kijiji, Instagram and other technologies like virtual tours and online teasers, Kirsty creates maximum exposure for her clients' properties. "I use social media and internet as a phenomenal source of success for clients."
Why sell a property with Kirsty:

Seller's Real Estate Information Toolkit: Knowledge is Power

Service that EXCEEDS your expectations making your experience EXCEPTIONAL

Trust and competence for YOUR piece of mind

Maximum exposure of your home on the market

Tips to Dress Your Home - Kirsty maximizes market value, makes a house

sell, from staging to minor improvements to an entire Renovation Team

Short-listing of buyers – Kirsty qualifies buyers so no one's time is wasted

Good Direct Communication – you can count on information provided to you

on a schedule and manner that suits you

Focus – Kirsty knows her business

Social Media and the internet is the #1 way that potential buyers get a first impression of your property.Kirsty uses virtual tours, floorplans, facebook and instagram teasers to bring your property to life.

Checkout these teaser videos:

9907 146 Street - Edmonton

https://drive.google.com/file/d/1vjdzGhwq-nhFRnLoEXKOukqkIt6deFI-/view.
93 Crystal Springs Drive - Pigeon Lake https://youtu.be/SmviJGTPfj0

Just Listed/Just Sold cards mailed out to your area. Nowadays very few of us receive anything fun in the mail, these classy cards get alot of mileage in your neighborhood often creating a sale. Most people who love their neighborhoods; brag & invite their friends, family & coworkers to move in!! Check out these mailouts:
Why buy a property with Kirsty:
Help buyer's to build equity through real estate ownership

Home Search Program – takes the guesswork out of finding the

right match

Buyer's Checklist: to clearly prioritize your needs

Buyer's Real Estate Information Toolkit = no surprises
Having taken courses in Residential Interior Design and Building Construction
Kirsty also stages properties with expert results.
"I recently listed a home in the Edmonton
Country Club Estates. Fantastic location but it wasn't selling. I helped the owner update
with paint and lighting and it sold immediately! I love sharing my sales and creative
abilities to give clients the WOW factor."
By combining solid business fundamentals with cutting edge innovations, Kirsty creates
excellence in service and expertise, making her one of Edmonton, Pigeon Lake and St. Albert area's
trusted top producers. She is also one of the most desired realtors to work for. Kirsty is
always looking for new assistants to join her team.